Advice For Women Renting a Car and Driving Abroad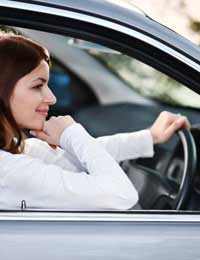 Women who are travelling outside of major cities may find that car rental is a good transportation option. Travelling by car means that women can go wherever they want whenever they want, and it also allows for easy luggage transfer and making changes to their itineraries at a moment's notice. Women considering renting a car abroad should investigate all of their options, research car rental insurance and find out more about driving in the areas where they will be spending time.
Renting a Car Abroad
Renting a car abroad requires planning. Always book a car in advance of your travels not just to avoid disappointment on the day but because advanced booking almost always guarantees a better rental price. If you prefer a manual transmission or an automatic transmission, a certain make or model of car, a specific colour or number of doors, then make these wishes clear when booking.
Rental regulations may vary from country to country or company to company, so be aware that there may be a minimum or maximum age allowed for car rental. Some companies may have regulations but allow those who fall outside of these age ranges to pay a surcharge in order to rent a car. Also consider what (and who) will be travelling in the car before deciding on the size that you will need. Finally, car rental requires a full drivers licence and some companies prefer to see an International Driving Licence/Permit as well. In the UK you can obtain such a licence/permit from the AA (www.theaa.com).
Car Rental Insurance
Most women who travel abroad invest in travel and even medical insurance for their trips, but these policies do not usually cover damages to or made by rental cars. Many people routinely waive the various insurance policies offered by care rental agencies, but for women travelling abroad it may make sense. Check your own automobile insurance coverage, your travel insurance policies, if your credit card company covers anything related to car rental and if your company travel policies cover you while travelling for business or pleasure. Be sure to read the fine print, because even if some coverage does seem to be present there may be exclusions based on the kind of vehicle rented. If you can't find, or figure out, if you have coverage then it's probably worth it to spring for the insurance offered by the car rental agency.
Driving Abroad
Everyone jokes about driving on the 'wrong' side of the road in the USA, but driving abroad requires more care than to just notice the flow of traffic. Road signs, speed limits and general road rules may all differ so if you are planning on driving in another country you'll want to do some research before leaving home to find out about driving in your destination. In many areas the roads may also be poor and specific access points and passes may not be open in inclement weather, so driving with a map or GPS system is imperative. Keeping a mobile phone charged and ready at all times, emergency supplies in the boot and local emergency contact numbers is also important while driving abroad. Women will also want to investigate if there are any areas that female drivers should avoid and indeed, if female drivers are permitted or encouraged at all.
Renting a car and driving abroad are accessible means of transportation for most female travellers. Women should remain vigilant, however, to book and drive cars with which they are comfortable and to take all necessary safety precautions regarding renting and driving cars abroad.
You might also like...