Advice When Travelling as a Mature Woman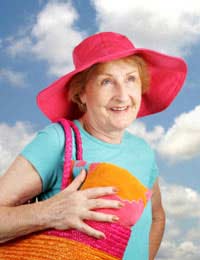 Travel might not be for the feint of heart, but it certainly isn't limited to the young. Senior travel is big business these days and more and more older women are choosing to travel together or on their own. If you're considering travelling as a mature woman, make sure that you take necessary precautions for travel safety, health and travelling companions.
Mature Women and Travel Safety
Mature women should follow general travel safety tips. These include leaving valuables and jewellery at home, giving friends and family a copy of your travel plans and documents, and protecting your personal and financial information as you travel. Mature women with mobility problems should also be sure to request hotel rooms on lower floors and near elevators, as well as identify themselves to crew members so that they can board planes, trains or buses as early as possible and already be known in case of emergency evacuation. Mature women should also be aware that some cultures have different views of mature women so travelling to particular locations may mean that they are treated differently simply because of their age. Whether this treatment is better or worse than average does not matter – if a woman feels uncomfortable or unsafe then she should seek help immediately.
Mature Women and Travel Health
Mature travellers often have health conditions, so first and foremost a mature woman should check in with her doctor to see if there is any reason she can not travel or should not travel to a particular area. Like any senior, if you take medicine then you should pack enough to last the length of your trip and keep your medicine in a carry on bag at all times. Do not pack medicine in luggage in case the luggage becomes delayed or misplaced. The same goes for reading glasses, hearing aids or any other items needed for everyday health and safety. If you are staying in a hotel room with a safe then you may want to keep your medications and other items there (unless a medicine must remain chilled). If needed, bottled water should be used to take tablets to avoid contamination from local water sources. You may also want to look into health and/or travel insurance in case you have a health problem while travelling.
Mature Women and Travel Companions
Travelling with a companion is a great idea for mature women. Not only does this mean that there is someone to share your adventures with, but you can avoid paying single supplements on rooms, being put at tables with strangers in restaurants and possibly even being seen as a target for theft or other crime. However, travel companions should be selected with care. Travel companions could be family or friends, or they could be mere acquaintances. Some women even advertise for specific travel companions for specific trips. If you are considering travelling with a companion who you have never met, be sure to properly screen all candidates, check their references and consider a background check. You'll also want to be clear about whether this is a paid position (including whether you will be covering the cost of the trip) or if you are simply looking for another woman who might want to undertake the same trip at the same time.
Travelling as a mature woman does not necessarily entail greater hardship or preparation procedures than a trip undertaken by anyone of a younger age. However, mature women should be careful about their travel safety and health and consider travelling with a companion if they are nervous about a trip or prefer to share their adventures with others.
You might also like...