Public Display of Affection in Middle East: What is Acceptable?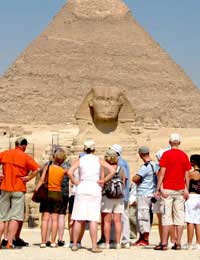 Q.
I am planning a trip with my boyfriend to the middle east - we are planning on visiting Syria, Egypt and Israel, - I am doing all the research to ensure my own personal safety and comfort but there are a few issues I'm having trouble finding information on - the first being public displays of affection. Is hand holding appropriate - or is even that seen as too much? Is a small and quick kiss okay? We do this often without even thinking about it.
My other question is about food. I am a vegetarian and I also have a gluten intolerance - what is the food like in Syria and Egypt? I was told not to eat any fresh fruits or vegetables - are dried and canned fruits and veggies okay? What kind of food would you recommend for me?
(K.D, 5 July 2009)

A.
Congratulations on booking a trip to the Middle East. This part of the world is wonderfully diverse, and as such you will find different customs relating to interactions between males and females in the different areas you visit. There is really no way to make a generalisation concerning the acceptance of public displays of affection, but a good guideline is to take your cue from local residents. The more conservative the area, the less obvious your displays of affection should be. In fact, in highly conservative areas (regardless of religion) you may find that males and females are not expected to hold eye contact much less have physical contact.
You may find that Syrian society is more conservative than others and affection displays are less welcome there, though certain communities in Egypt and Israel will not appreciate public displays of affection either. Areas well known to tourists are usually more tolerant of such behaviour, but try to remain aware of your surroundings so that you do not offend others or embarrass yourself. If you truly have no idea, discretely ask a local guide or other tourism official who would be more familiar with Western customs and concerns.
Much like local customs, local cuisines vary greatly in the Middle East but a vast selection of spices is usually employed in the most well-loved dishes. Yogurt is often used as a foil to the heat of these spices, and vegetables are extremely common in hot and cold dishes. Chickpeas, aubergines, olives and cucumbers are particular favourites, and vegetable based soups and dips are common.
Most likely you were advised to avoid fresh fruits and vegetables because they could be washed in water that is not fit for consumption. If you remain concerned about this then try to eat items that come with a skin which you can discard. If you prefer food with which you are more familiar, there are usually any number of Western-style cafes and take-aways in bigger cities, as well as markets and grocery stores from which you can purchase packaged food, though trying local foods before you leave home so that you know what you like is a good idea too.
You might also like...