Advice for Women Giving Up Work to Move Abroad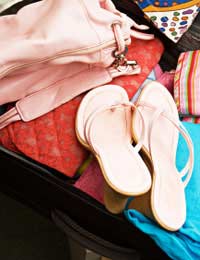 In theory giving up work to move abroad might seem like everyone's dream but in practice it can be a lonely, frustrating time for women who are not used to being at home. Not only can it be hard to find a sense of identity after giving up work, but it can be hard to find a new role when you are already trying to figure out how to make a new life overseas.
To combat the worst of this transition women who plan to give up work in order to move abroad should look into expatriate groups that can help them settle in as well as workshops or classes that will get them out of the house. You should also remember that there will be frustrations, and have plans for how you will cope.
Last but not least, remember that just because you gave up one job doesn't mean you've given up all of your skills and that with a little bit of creativity there might be plenty of new places for you to use them.
Seeking Out Expatriate Groups
It may seem like a cliche for expats to band together and make their own groups, but the truth is that other expats have been where you are now and know what you are going through. In many countries there are actual, physical clubs for expats to get together and socialise or run programmes, while in others there are organised groups which meet up in public places or each others' homes.
Sometimes these groups are based on gender, sometimes on nationality, sometimes attached to a particular company or organisation, and often there is more than one which you would be eligible to join. Remember, you don't have to become best friends with other members just because you are all expatriates, but they would be the ones who could answer questions about setting up home, travelling in the region, organising healthcare, your children's schools and myriad other topics that crop up when you first move abroad.
Joining Workshops and Classes
After the initial frenzied weeks of finding a new home, unpacking and settling into a routine, many women who give up work to move overseas find themselves with a lot of time on their hands. Joining workshops and classes is a great way to get out of the house, meet new people and learn something new.
Looking into a particular hobby, such as creative writing or watercolour painting, could give you a sense of personal growth while learning more about your new home, such as through language lessons or cultural excursions, could help you feel more settled. You might find that you enjoy more practical classes and could learn to swim, surf or practice yoga, but just remember that these classes might be small and time to chat with others limited so if you are looking to make new friends you'd likely have to suggest meeting up with others after these classes as well.
Coping with Frustrations
No matter what, everything will not go the way that you plan when you move abroad. You might find the perfect house but realise the pipes are leaking. You might realise that you speak the local language but not the local slang. It might be the day of your first dinner party when you realise that you can't get a key ingredient for your main dish. When you don't have a job to escape too these frustrations can easily fill your days.
However, if you have plans for how to cope with frustrations you'll probably get through them much better. Perhaps your stress relief comes from cooking, running, journaling or even chatting with friends from home. It's perfectly normal to feel these frustrations, but just remember that the more you get out and about, and the more you meet new people and swap stories, the more comfortable you will probably become with frustrations that might otherwise have spiraled out of control.
Using Career-Related Skills
There will come a time in your move overseas that you've had enough of settling in and just want to get back to "real life". For women who previously held jobs the desire to return to work might become very strong but if you are unable to do this then you'll need to get a little creative with how you can use your career-related skills.
Volunteering in the local community is a great way to start a routine and make a difference in your new home. Becoming involved at your children's school might be another way to put your skills to good use. You might also be able to offer courses to women's groups in topics related to your previous profession, or to the larger expatriate community as a whole. Fundraising is another way that you could put your skills to good use, and if you're really craving a job then freelancing, starting your own business or investing in someone else's business could be possibilities depending on local legalities.
Giving up work to move abroad can be as fun, or frustrating, as you make it. Seeking out expatriate groups, joining workshops and classes, coping with frustrations and using career-related skills for other purposes are all ways that you can help begin an exciting new life abroad.
You might also like...