Female Travel Safety Tips for Planes and Trains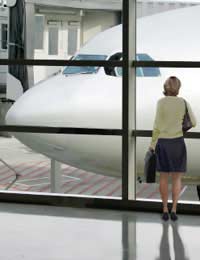 Travel safety for planes and trains is important for women travelling both at home and abroad. Women should always follow general travel safety tips as well as specific tips for planes and trains. Women travelling while pregnant, breastfeeding and with kids should also take care to address these situations specifically.
General Travel Safety
Travelling requires a great amount of patience and attention. Without meaning to, women can risk their own health and safety in many small ways. Regardless of how or where they are travelling, women should take care to protect their personal and financial information. Women can do this by keeping the information on their luggage tags general, carrying their own luggage at all times, asking to speak privately any time financial data will be involved and locking their purses and electronics with sensitive data in hotel safes at all times. If it is discovered that a woman's travel documents, credit cards and/or other personal information has been lost or stolen, women should alert the relevant authorities immediately.
Safety and Planes
Aircraft safety is not a joke, but many travellers treat it this way. Women should always take care to read the aircraft safety information cards provided for them and to watch the safety films or demonstrations that are given at the start of a flight. If a woman is advised that a particular aircraft seat, such as those in exit roles, require a certain degree of strength or agility she should think carefully about her ability to perform required tasks before accepting the seat.
Safety and Trains
Trains do not always provide safety instructions or demonstrations, so women need to use common sense when travelling on this type of transportation. Sitting in well lit and more crowded cabins, securing luggage on overhead racks before sitting beneath them and keeping valuables in handbags looped around the ankles are all important ways to stay safe and secure on trains.
Travelling while Pregnant
Pregnant women should always consult with their doctors before travelling. Some airlines have limits on the stage of pregnancy in which they will permit women to travel, so checking before booking tickets is always a good idea. Pregnant women who do fly should make sure to stand up frequently and possible wear special flight socks to ward off Deep Vein Thrombosis (DVT) which occurs more frequently in pregnancy. Pregnant women will also likely want to request an aisle seat on any transportation that they choose so that they can move as freely as possible. Even if women can travel perfectly safely, they will also want to think about their destinations and if they are healthy areas for pregnant women and if there are appropriate medical facilities in case of emergencies.
Travelling while Breastfeeding
Travelling while breastfeeding is not necessarily risky, but it may take a bit of planning. Mothers who plan to fly while breastfeeding should advise their doctors of this plan and may want to express milk into bottles before boarding the plane. Women on planes and trains will probably want to carry a blanket or shawl to help protect their privacy while breastfeeding, as well as hygienic wipes to help make sure that their breasts and nipples can be cleaned no matter what the surrounding facilities are like.
Travelling with Kids
Women travelling with kids on a plane or train should remember the basic rule of thumb to always help themselves first. This is often stressed in aircraft safety demonstrations where it is shown that parents should fit their own air masks before helping their children fit theirs. The thought behind this is that when parents are taken care of they are in a better position to help their children. Women travelling with multiple kids may also want to help their children institute a buddy system so that older kids can help watch over younger ones.
Travel safety for planes and trains is incredibly important for women travelling at home and abroad. While many travel safety tips are just common sense, specific tip for planes, trains, pregnant women, breastfeeding women and women travelling with kids are all important for female travellers who may never have thought of these specific circumstances before.
You might also like...
jdndgjbdidnd yjebbbdyejm ebeyjeehkem e bek,eebhk e jk e jem e bome ee ckfvrr r r r r rr j mf f nvkfdk d,dm dkf fnm fnk,rfbjkr g fnfkrfjfjff jjmfn nhc,f bf,nbkjlhlldsjk.bjkkdjhflsdhhhhhhhhhhhhhhhhhhhhhhjdjkdjhdbghfshdvfds,dnbbncbdjdnhufilrhjfkffffb nhfmnbfjkfnhfkooe804hy894jh8r84uyu5
jacko
- 23-Dec-14 @ 2:11 PM