How to Wear an Abaya or Islamic Clothing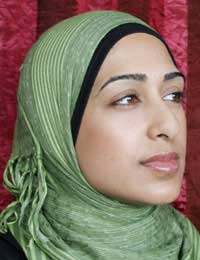 Some Muslim women wear an abaya as a form of hijab or Islamic dress. In the United Arab Emirates an abaya is the national form of dress for women, but this does not mean that every Muslim woman everywhere in the world needs to wear one, or that every female traveller to an Islamic area is required to wear one either. If you are travelling to Muslim nations or regions, plan ahead to find out about local dress and what will be expected of you as a tourist. Wearing an abaya, jilbab, niqab and headscarf or shawl are all Islamic clothing options for women in different areas.
Wearing an Abaya
An abaya is a type of outerwear that some Muslim women wear over their clothes. Most abayat are black, though some may be of different colours and even the black garments may have embroidery or artwork on them. Abayat are really more like long caftans than anything else, and come with headpieces that cover the hair. For most abayat, the only things left uncovered on a woman's body are the face, feet and hands. Some women will also wear gloves to cover their hands and there are options for covering the face as well. An abaya may go by other names as well, including 'chador' in Iran. Abayat can be bought in Muslim areas or online, and female shop assistants and local women are usually more than happy to help women unfamiliar with abayat to put them on correctly and understand when and where they are needed.
Wearing a Jilbab
A jilbab is another form of outerwear that some Muslim women wear over their clothes. Jalabib are more like long coats than caftans, and in some areas may be called manteau because they resemble mantles. Most jalabib are worn with a headscarf to keep the hair covered and again leave only the face, hands and feet uncovered. But again, gloves and a face covering can also be worn to make a jilbab cover more of a woman's body.
Wearing a Niqab
A niqab is a veil that a Muslim woman may wear over her face in addition to an abaya or a jilbab. Wearing a niqab is popular in the Persian Gulf as well as in North Africa and some parts of Southeast Asia. In the West, the terms 'niqab' and 'burqa' are often used interchangeably though they are not technically the same garment (a burqa is one outer garment that falls over the entire body and leaves only a covered space for the eyes).
Two types of niqab that are popular around the world are the half-niqab, which leaves the eyes and forehead uncovered, and the full or 'gulf-style' niqab which consists of two bands and leaves only the eyes open. As covering the face is usually a new experience for Western women, wearing a niqab can be awkward at first so practice is recommended.
Wearing a Headscarf or Shawl
Around the world a headscarf or shawl is usually the most commonly identified form of Islamic clothing found on women. Many tourists feel most comfortable donning a headscarf or shawl in Muslim areas, and the variety of options means that most women can make the head covering as much a fashion statement as a religious requirement. The purpose of such head coverings is to ensure that hair, neck and ears are covered, but using pretty, patterned scarves often help women match their head coverings to their outfits and feel more comfortable and confident.
Wearing an abaya or other form of Islamic clothing may make women feel more comfortable as they travel through Muslim areas and may be required by law in some Muslim nations. Women interested in learning more about Islamic clothing should speak with Muslim women or contact a local Muslim cultural centre.
You might also like...