Head Coverings for Female Travellers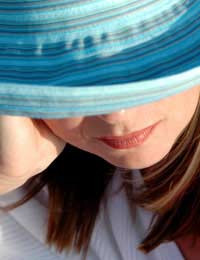 Many female travellers think they only need to worry about a head covering if they are going to Muslim areas, but this is untrue. Head coverings are also appropriate in Orthodox Jewish areas, in some Catholic churches as well as for climate concerns like sun, rain and snow. When you travel, carry at least one type of head covering with you so that you are prepared for any eventuality.
Head Coverings for Women
Women enjoy a wide array of head coverings. Headscarves, turbans, hats, caps, wigs, snoods, berets, scarves, shawls and even a cleverly-tied sarong can all cover a woman's head at a moment's notice. These head coverings come in a variety of fabrics, colours and patterns and some may be more appropriate for particular regions than others. For example, women going skiing would do well to invest in a wool hat, whereas women travelling in Southeast Asia may find that wearing a cotton or silk headscarf may be more appropriate. If rain is predicted, women should also bring along an umbrella or wear a raincoat with a hood as wet head coverings can be very uncomfortable and turn quite cold while they dry out.
Religious Head Coverings
Some women may wear a head covering for a religious reason, but there is great diversity in the types and styles of head coverings that religious women may wear. For example, many Muslim women prefer for their hair, neck and ears to be covered while some Orthodox Jewish women cover only their hair. Different Islamic clothing options also offer different degrees of coverage.
For example, abayat tend to cover a woman's entire body by the face, hands and feet while jalabib tend to only cover the body and a headscarf is often worn with them. A naqib may be worn to cover some or all of a woman's face, and a burqa covers a woman's entire body from her head to her toes leaving only a small, uncovered space for her eyes.
If you are interested in learning more about religious head coverings in your desired destinations, speak with women who have travelled there or contact a local tourism office to find out more.
Headwear for Climate Concerns
Whether or not a woman travels in a religious area, she will want to bring along an emergency head covering to help deal with local weather. Women travelling in monsoon areas will want to bring along a rain hat, while women travelling in areas subject to snow will want to invest in warm caps. Women travelling in hot, sunny areas will want to pack light, airy headgear that helps keep the sun off of their faces and from damaging their skin and hair. Bringing headwear from home will allow women to feel comfortable and confident in their selections, while trying to pick up an adequate head covering on the road will leave her open to whatever happens to be for sale.
Head coverings for female travellers come in handy when women travel in religious areas and areas with hot sun, strong rain and snow. For ideas on what type of head coverings are most important for the areas where you will be travelling, check out tour guides, speak with recently returned tourists or contact a tourist office for more information.
You might also like...