Tips for Avoiding Pickpockets as a Female Traveller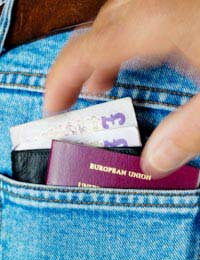 Tourists are often seen as an easy target for theft and female travellers in particular may be targeted by pickpockets. The next time you travel don't become a victim of crime. Follow these tips to avoid pickpockets and keep your possessions safe.
Leave Valuables At Home
One of the best ways to protect your valuables while you travel is to leave them at home. Only bring items that are necessary to your trip, particularly electronic gadgets, and store the rest for the duration of your journey. If you must bring an mp3 player, laptop computer, family heirloom vase and priceless portrait then make sure that these items are all packed carefully and insured. Don't leave valuable items lying around hotel rooms or in plain sight of windows or doors. Use hotel safes when possible or keep these items in your day pack so that they are never unattended.
Understand How Pickpockets Work
Pickpockets often operate on crowded public transportation and just outside of subway or train stations. Be particularly alert when you are in crowds where it would be normal to bump into others. Pickpockets often work in pairs with one of the team being the 'distracter' that asks for directions or approaches with a book or newspaper and the other being the actual pickpocket who steals your money or valuables. If you feel uncomfortable with someone coming close to you, be prepared to grab your valuables, move away, loudly say 'No' or 'Go away' or even push someone away.
Bring a Backpack
Pickpockets are not above cutting the strap of a handbag in order to get to the contents, so if at all possible wear a backpack – backwards. Loop your arms through the backpack and wear it on your chest so that you don't have to worry about what kind of activity is going on behind your back. When you are sitting, even on a bus or train, loop the straps around your ankle so that you will feel if someone tries to snatch the bag. Do not leave backpacks hanging over the back of chairs, under seats or stuffed in overhead shelves without any supervision.
Let Your Hair Down
Certain female hairstyles unfortunately provide pickpockets with extra artillery in their battle to pick your pocket. Ponytails and plaits all provide a 'tail' that thieves can grab to pull a woman into an alley or away from a crowd in order to perpetrate a crime. To avoid giving thieves this advantage, let your hair down or wear it tucked up close against the scalp. Tucking hair under a hat or cap may also be a good idea, though knocking the cap off can provide thieves another means of distracting a target.
Avoid Jewellery
In most areas of the world nice jewellery is a sign of wealth, so women wearing nice jewellery are determined as wealthy and thus can be targets for pickpockets. Dangling earrings, long necklaces and looping bracelets can also give thieves leverage towards catching hold and either dragging a woman or snapping the jewellery right off her body. If you do want to wear jewellery on your travels, keep it minimal, avoid anything flashy and try to avoid anything in a long or dangling style.
Stash Your Cash in Multiple Locations
Pickpockets don't usually have enough time to search your whole body for a purse or other valuable, so if you stash your cash in multiple locations then you will usually have some left even if you are mugged. Carry some cash in your pocket, shoe, sock, bra or on a money belt tucked against your waistband. Also leave some cash in your accommodation so that you can always get to some should you need it.
Carry Copies
If the worst does happen and a pickpocket makes off with your cash, credit cards or even travel documents then you'll be glad that you thought ahead and kept copies of these things in your hotel safe. Make sure that you travel with a copy of your credit card account information, passport, travel bookings and the phone numbers for the offices to call in order to report these items as stolen. When you're in between hotel rooms, carry these copies in a separate location from the originals.
Female travellers do often draw unwanted attention and can become targets of pickpockets and other thieves. Preparing for this and taking appropriate precautions should help lower your risk of theft.
You might also like...