Women and Coping with Political Upheaval Abroad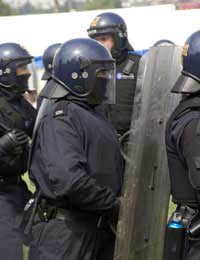 The world is an unstable place and politics are a particularly volatile arena. When you travel, staying abreast of politics in the region is always a good idea so that you can take care to avoid potentially dangerous areas. Understanding different types of political upheaval, local political parties and their contribution to stability or instability and how best to cope with an emergency abroad, are critical to staying safe when travelling.
Types of Political Upheaval
'Political upheaval' is a broad term that encompasses many different types of political situations. Elections, referendums, political conferences or meetings, conferences and meetings of nongovernmental but still political groups, military coups, and the dissolution of one government and the formation of interim governments are all political events that might cause social unrest or upheaval. For the most part the world press stays current with political changes around the world, but in remote areas or areas in which the government censors stories newspapers and websites may not be able to publish the stories they would like to, or as quickly as they would like to. For these reasons, checking in about Foreign Office travel advisories regarding political happenings is always smart both before and as you travel.
Local Politics and Political Parties
Politics can be complicated and emotional, and often at times it is so personal that allowances are not made for tourists who do not necessarily understand the local political parties or political system. Because of this, women travelling abroad should always have at least a rudimentary knowledge of politics in the regions to which they are travelling. Women should also take care not to voice challenging, oppositional or derogatory views of local politics and political parties if they are not willing to face potentially negative or even dangerous consequences. Remember, politics differ around the world and freedom of speech and thought it not necessarily guaranteed in other countries. Editing yourself and only speaking about what you know are good ways to stay safe and refrain from inadvertently insulting anyone.
Coping with an Emergency
Women who are caught in political upheaval abroad should not panic. If possible they should stay away from uprisings, demonstrations or other crowded events and instead stay inside and contact their nearest embassy or consulate. It may not be possible for a woman to be rescued or otherwise removed from danger right away, so women should take care to stay in touch with family and friends and let them know that they are alive and well and if they need anything. Keeping some stored food and bottled water on hand will also help women stay safe and healthy should they not be able to travel or even go outside for a little while.
Political upheaval abroad can be dangerous for women travellers. To best cope with political upheaval while travelling, women should become acquainted with the types of political upheaval they may face, research local politics and political parties and have a basic plan for what they would do to cope with an emergency when travelling.
You might also like...