Advice on Dressing Like a Local for Women Abroad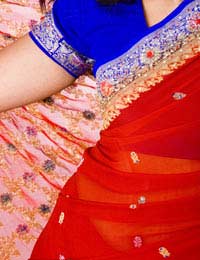 When women travel, their clothing tends to come under much greater scrutiny than men's clothing does. Not only do women need to dress appropriately for the climate and social setting, but their apparel must meet cultural and/or religious norms as well. One way to make sure your clothing is successful in these areas is to dress like a local woman. If you are interested in dressing like a local while you are abroad, study women's clothing in pictures of your destination, read local women's magazines to find out what is popular, clothes shop with a local woman and/or ask for advice from shop assistants.
Study Women's Clothing in Pictures
No doubt you will do your own research before travelling abroad, so while you are hunting down interest information about your destinations be sure to study any pictures of women that you find. Look at the clothing, shoes and accessories women wear but also be aware of any items that are distinctly missing. For example, you might notice that women wear sandals in many pictures, but that you never see a pair of trainers. Also be sure to take note of where the women are in pictures. It will probably be obvious that women will wear different clothing on the beach than in an office, but you may find that similar pictures of city streets show women dressed quite differently in different cities. Take note of what you notice about womens fashions in these photographs and use your notes as general guidelines for putting together local looks.
Read Local Women's Magazines
Many international women's magazines are available in UK newsagents and airports and often carry a wide array of foreign glossies. Gather a few magazines published in your destination and use them as a crash course in current fashion. Women's magazines tend to focus on popular fashions for women's apparel, including shoes and accessories, so they can be excellent guides to what is appropriate and enviable right now. However, women's magazines are often a reflection on the more cosmopolitan segments of society, so be aware that travelling to less affluent or urban areas of a country will likely mean that cutting edge fashion is not the norm.
Clothes Shop with a Local Woman
For up to the minute advice about women's fashion in your destination, make arrangements to shop with a local woman. Local women will know what is appropriate for any situation, where the best places to find these articles of clothing are, and how much you should pay for local apparel, shoes and/or accessories. Many times shopping with a local woman will net you a local price as well so you can rest assured that you are not being gouged because you are a tourist. After shopping, local women will also be able to help you don garments with which you are unfamiliar, for example saris or sarongs, and offer you advice about how to navigate social situations in your new clothes.
Ask Advice from Shop Assistants
If you do decide to shop alone while abroad, asking advice from a shop assistant will help you find out more about local fashions. However, remember that many shop assistants will simply be interested in selling the most clothing possible at the highest prices possible, so you'll need to be firm about what you need and why you need it. If you are shopping in a city but will be wearing the clothes in a small town, tell shop assistants this so that they can help you find appropriate clothing for all of your travels.
Dressing like a local woman can help female travellers blend in while abroad. Looking at photographs, skimming local magazines, shopping with local women and asking for help from local shop assistants are all good ways for women to find out more about womens fashion in their desired destinations.
You might also like...