Advice For Packing a Female First Aid Kit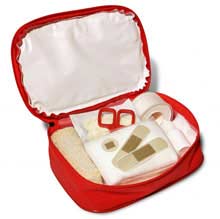 The power of a first aid kit should never be underestimated while travelling. For female travellers, throwing a few extra essentials into the mix will help ward off some particularly feminine travel emergencies as well.
Packing Female First Aid Kits
First aid kits must be packed prior to travel to ensure that they contain all of the essentials that a woman desires. Most travel first aid kits will include bandages and plasters, tape, some sort of antiseptic wipes or cream, tablets for allergies, upset stomachs, diarrhoea, headaches and/or menstrual pain, cough medicine and throat lozenges, small scissors, safety pins, sunscreen, thermometer and tweezers. Female first aid kits may also contain emergency sanitary towels, panty liners and tampons, wet wipes, toilet tissue, emergency contraception, extra contraceptive pills and condoms. Packing these items into a portable waterproof bag is a good idea.
Multiple Uses for First Aid Supplies
Women can use first aid supplies in a variety of different situations while they travel. Bandages can become hair bands or be used to secure luggage, tape can be used to whisk away fine body hairs, throat lozenges can be used to give lips a little colour, safety pins can hold up hems or split seems and tweezers can be used to shape eyebrows, remove splinters and help women reach small items in tight spaces. Sanitary towels can help soak up excessive blood or other fluids, as can tampons, which can help with nosebleeds as well, and wet wipes and toilet tissue can be used for a variety of cleaning purposes. Depending upon the type of bag used to house all of these items, women may be able to bring it to the beach or also use it as a clutch as needed.
Storing Female First Aid Kits
First aid kits are only helpful if they are available, well stocked and everything in them is in good working order and within its expiry date. To help make these things happen women should stock their kits once and replace items either as they are used or on a monthly basis. Kits should be stored in cool, dry areas that are out of direct sunlight and checked thoroughly after being wet, in a warm area or in direct sunlight.
While travelling, first aid kits should be kept with women at all times. Some items may not be allowed in the cabin or airplanes, but other than that women should attempt to keep their kits in their day packs and not in checked luggage. Once an item is used on the road it should be replaced immediately. If exact replacement items can not be found, then taking the original packaging of an item (headache tablets, antiseptic ointment, etc.) to a chemist will help get the closest replacement possible.
Packing a first aid kit is one of the most important steps a woman can take to stay safe and healthy while travelling. For more information on first aid supplies and training, contact the British Red Cross (www.redcrossfirstaidtraining.co.uk) or St. John Ambulance (www.sja.org.uk) and find out what items and skills will be best for your travel plans.
You might also like...