Ensuring Adequate Hydration for Female Travellers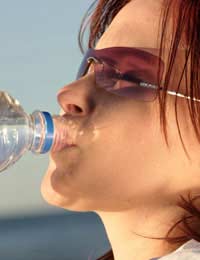 Humans can survive without food for longer than you might think, but without proper hydration they will feel serious side effects within a few hours and can die within a few days. This is because every cell of the body needs water to function properly, so a drop in hydration affects all parts of the body. For female travellers adequate hydration is especially important as hormonal changes can require a greater need for water at some times than at others.
Adult Hydration Guide
According to the British Dietetic Association, adults need to consume 2.5 litres of water per day in order to keep the body in good health. Of these 2.5 litres, 1.8 litres must come directly from beverages. This means that at least six glasses of water are required each day, with the rest of the needed water coming from foods (fruits, vegetables, etc.). Natural fruit juices and teas can be counted towards the six glasses of water. Excessive consumption of tea, coffee, alcohol and fizzy drinks should be avoided, however, as these items are diuretics that can actually work to expel more water from the body than normal. These guidelines are for average adults in cool climates. If an adult is travelling in a hotter climate and/or is physically active, then more water is recommended each day.
Determining Proper Hydration
Every adult has a unique hydration need, but there is a way to check if adequate hydration has been obtained. Travellers should check the colour of their urine to help determine their hydration levels. Clear or pale urine is an indication that water levels are good, while darker urine is an indication that more water is needed. Travellers should also be aware that they could mistake a body's craving for water for hunger pangs. To this end, travellers should drink a glass of water when they feel hungry and wait 15 minutes to see if they still feel this way. If not, it may be that their bodies were craving water and not food.
Female Hydration Needs
Women often experience physiological signs of their menstrual cycles and some women may find that they need more water when their hormones are in flux. This may be because their body temperature raises slightly making sweating (and thus dehydration) more likely, because they experience 'hot flushes' and need a way to cool down or even because they feel more tired and find that sipping cool water has a rejuvenating effect. Whatever the case, women who are travelling should listen to their bodies and respond to their requests, not ignore what their bodies are telling them because it seems a little different than normal.
Suitable Drinking Water Abroad
Though many countries have totally suitable drinking water, the best way to avoid water-borne diseases or bacteria is to drink only water that is from a bottle with a sealed cap. If a cap is broken travellers should discard the water as there is no way of knowing if it simply tap water poured into the container. Generally water that is non-potable (not for drinking) will be advertised as such but in some areas it may be that all water is non-potable and thus the norm. In such areas travellers should avoid using tap water for drinking, brushing their teeth, cleaning their food, making ice or mixing drinks. Boiling water may make non-potable water suitable for drinking, though only if it is boiled for at least 15 minutes and stored in sterilised containers.
Ensuring adequate hydration is important for all travellers, but female travellers in particular need to listen to their bodies each and every day and respond to its changing water needs. Ask your GP for more information about hydration before travelling.
You might also like...