Suffering a Miscarriage Abroad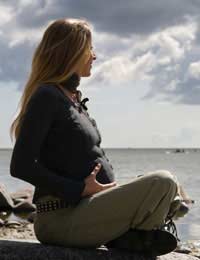 Travelling during a pregnancy does not necessarily mean that a miscarriage will occur, but any woman who travels while pregnant should be aware that a miscarriage could happen while she is abroad. Miscarriage, or the spontaneous loss of a pregnancy before the 20th week, does require medical attention. For this reason, pregnant women should avoid more adventurous travel during their pregnancy and follow all prescribed travel advice to best avoid miscarriage.
Pregnancy and Preparing to Travel
Again, travel itself will not necessarily cause a miscarriage but aspects of travel can certainly contribute. When preparing for a trip, a woman should disclose her pregnancy prior to getting any necessary vaccinations. Live vaccinations, such as those for Yellow Fever and Measles, Mumps and Rubella, should be avoided while pregnant. Anti-malarial treatments should also be discussed as some drugs may be better than others during specific times in a pregnancy. However anti-malarial treatments should be completed because malaria can harm pregnancies if a woman and foetus are exposed.
Travel and Pregnancy
Pregnancy is not a time to risk your health and wellbeing. Women who want to travel abroad while pregnant should discuss their plans with their doctors and midwives and take into account any advice they are given. Women should be sure to have a thorough check up before they go, ensure that their travel and/or health insurance covers pregnancy, and check with all transportation companies (specifically airlines) about travel cut off points for pregnant women. Flying while pregnant can also lead to swelling and even a higher risk of DVT (Deep Vein Thrombosis) so be sure to get up and move around a lot during a flight. Women should also avoid travelling to remote areas or areas known to have sub-standard antenatal care - just in case anything should happen.
Miscarriage
The vast majority of miscarriages occur within the first eight weeks of pregnancy, which means that some women may be travelling without ever realising that they are pregnant. Bleeding and cramping are two of the most common signs of a miscarriage, though some women who experience these actually go on to carry their babies to term. During a miscarriage the tissues of the pregnancy are expelled from the mother's body, but sometimes this process is not complete. This is known as an incomplete miscarriage and will require a procedure such as a D&C (Dilation and Curettage) to remove these remaining tissues and prevent infection.
Travel and Miscarriage
Miscarriages suffered while abroad can be frightening and emotional. Women do not expect miscarriages, so there are often elements of surprise and grief that must be dealt with as well as a woman's physical health. Women should see a medical professional immediately if a miscarriage is suspected. In large areas attending a hospital may be an option, but in smaller towns or rural areas there may only be one local medical option. Do not be afraid to ask for a translator if you feel that you are not communicating efficiently with medical staff. If possible ask to see a midwife or gynaecologist, who might also be referred to as an OB-GYN. Do not hesitate to call your own antenatal care providers once you understand the situation, often speaking to someone who is known and trusted make women feel much more confident and secure during this time.
Suffering a miscarriage is never an easy event, but suffering a miscarriage while travelling can bring on added stress, confusion and frustration into the mix. To lower your chances of suffering a miscarriage abroad, speak with your antenatal care providers before travelling.
You might also like...
I just lost my baby at 6 weeks, due to fly tomorrow, will be seeing 3 countries in 1 month, and absolutely terrified if the level of pain I feel right now, will be the same on the plane...
Lunar
- 26-Mar-19 @ 10:48 PM
Thenx for the advice I got a miscarriage the day I was to leave newyork for kenya I was. In shock never to believe thnx to mercy care medical centre they took care of me en my flight cancelled bt I'm stil saddened ann mwenda
taj
- 13-Aug-12 @ 7:10 AM