Considerations when Breastfeeding Abroad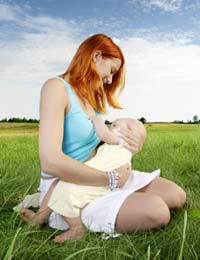 Travelling while breastfeeding brings many new issues for mothers to consider before nursing their children, whether in public or private. In addition to researching and respecting local attitudes towards breastfeeding, women also need to consider how best to keep their breasts clean, what to do if they fall ill, how best to look after their own health and how best to prepare supplemental bottles for their babies.
Researching and Respecting Local Attitudes
Breastfeeding is treated differently across the globe. In some societies public breastfeeding is the unquestioned norm, while in others nursing a baby in public is not a common occurrence. Before breast feeding mothers travel with their babies, they should take care to find out how breast feeding is viewed in the areas to which they will travel. Bringing along a shawl or sarong to use during feed times, and searching for clean, safe, private areas away from groups and out of the elements are always advisable for women breastfeeding abroad. If a woman can not ascertain how breastfeeding is viewed in the areas she is visiting, a quick word with a female tour guide or local woman should help to answer any questions.
Keeping Breasts Clean
Hygiene standards can vary widely while women travel, and while going a few days without a thorough washing may not seriously impact a mother's health, it may be detrimental to breastfeeding. Breasts can become infected if bacteria enter through the nipple, and if breast skin is not clean then the chances of foreign materials entering the breast will rise. Similarly, if breasts are not clean then foreign materials may enter a baby's mouth while (s)he suckles. If it is not possible for a mother to wash thoroughly every day, or if she has undertaken vigorous activity and feels unclean, then using bottled water and clean cloth strips or even wet wipes are always important for keeping breasts clean while breastfeeding.
Mothers Falling Ill
A mother may fall ill while travelling and it can be a concern as to whether they can pass their illnesses along to their babies through their breastmilk. Women who are breastfeeding should identify themselves before getting travel vaccines so that the administering doctor can discuss their baby's health abroad and decide which vaccines and/or anti-malarial tablets are right for the mother. Women who fall ill abroad, such as with food poisoning or diarrhoea, should increase their water intake and continue to nurse. Women who are exposed to HIV or tuberculosis should not continue to breastfeed until they are certain that they have not been infected.
Looking After Maternal Health
Travelling can be very disruptive to a mother's normal routine so she may find that she is sleeping less and eating less (or differently), both of which can be detrimental to her physical health. Mothers may also find that they ingest more alcohol and caffeine during their travels and that they are routinely in more smoky environments than they would be at home. To avoid adverse effects, women who are breastfeeding should try to get as much asleep as possible, rest during the day, keep their food and liquid intakes as close to normal as possible, and avoid atmospheres that are harmful to their own health.
Preparing Supplemental Bottles
Many breastfeeding mothers express their milk so that their babies are bottle fed, or use supplemental formula which is fed via a bottle. While travelling abroad, mothers will need to be alert to how these bottles are prepared and stored. Only sterilised bottles should be used for breastmilk and formula, and bottles should not be fed to babies if mothers are not certain that they have been stored properly. Formula should only be used if it came from a sealed tin, and only boiled water should be used to clean the bottles and mix the formula. To ensure that these standards are met, mothers should prepare and store the bottles themselves rather than allow hotel or restaurant staff to do so.
Breastfeeding abroad can present many new obstacles for mothers. For women considering breastfeeding while travelling, discussing this subject with well-travelled mothers is advised.
You might also like...