Tips for Surviving Natural Disasters When Travelling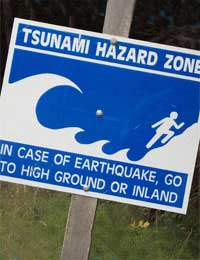 A woman's best chance of survival in the event of a natural disaster depends upon her knowledge of some basic information. Earthquakes, floods, hurricanes, tornadoes, tsunamis, blizzards and even thunderstorms can all be classified as natural disasters that might require an emergency response. Even if you don't live anywhere near this kind of weather, when you travel you will be exposed to new areas and new risks so understanding the dangers of natural disasters and what to do for your best chance of survival is important. Travelling with an emergency kit, travelling with extra food and water, travelling with a mobile phone, travelling with a disaster plan and travelling with emergency information are all important ways to help survive a natural disaster whilst travelling.
Travelling with an Emergency Kit
A basic emergency kit for natural disasters may seem similar to supplies you'd take for a weekend of camping. This is because both kits help you brave the elements and survive without modern creature comforts. In a waterproof container, try to carry with you at least a blanket, torch, radio and first aid kit. If you have room, also add in a hat and sweater, tape, rope, water purifier and a piece of brightly coloured cloth. These items are all versatile and may mean the difference between life and death if your travel plans are disrupted by a natural disaster.
Travelling with Extra Food and Water
Whether you want to consider extra food and water as part of your emergency kit or not, you need to take care to always keep these basics with you while you travel. Pack food that does not require chilling or cooking and instead opt for pre-packaged, high calorie snacks like nuts and nutrition bars. Dried fruits are also a good choice. Carry at least one bottle of water with you at all times. If you are stranded without food or water, do not ingest anything you are not certain is clean and safe. Foraging in nature or from street food may seem like a good idea when you are hungry, but could result in illness or even death.
Travelling with a Mobile Phone
A mobile phone is a primary means of modern communication, so be sure to keep one with you as you travel. Keep your phone on so that you can receive emergency texts from friends or loved ones who might hear about natural disasters forecast for your areas of travel and remember that some phones also contain radios, cameras and video cameras that might come in useful during an emergency. Sending out mass texts can help you reach a large number of people without using up much battery power. Also pre-programme an 'In Case of Emergency' or 'ICE' number into your phone so that rescue personnel can contact a loved one as soon as possible if needed.
Travelling with a Disaster Plan
Many travellers avoid discussing natural disasters unless they seem imminent, but women who address dangers before they become a reality often have the best chance of survival. Discuss various disaster plans with your travel companions including how to escape from particular rooms or buildings, where to meet following a separation, who to contact at home in case of an emergency, to check in with and who this contact person should keep updated at home (other family and friends, a co-worker, etc.). Each traveller should carry her own disaster supplies, however, because splitting supplies among travellers who get separated leaves each woman deprived and vulnerable.
Travelling with Emergency Information
Every female traveller should keep certain emergency information on her body in case of disaster. Hard copies of travel and identification documents, credit card and bank numbers, telephone numbers for emergency personnel and the nearest consulate or embassy in the areas in which you are travelling and contact information for next of kin and emergency contacts are all important information to have on hand in the event of a natural disaster. Making your blood type, medication needs and any allergies that you may have very clear is also a good idea in case you need emergency medical assistance. Also remember to keep cash on hand at all times and change for coin-operated public phones which sometimes work even when mobile phone lines don't.
Though it's never nice to imagine what you might need if the worst happens, doing so will give you a better chance of surviving if it does. Preparing for natural disasters before you travel will help you survive them while travelling and return home safely.
You might also like...