Water Safety for Women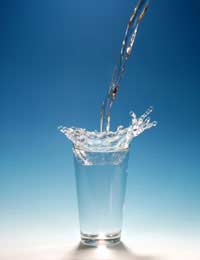 Water is an essential part of life, but it can present many dangers to women travellers. Learning basic safety tips for both recreational water safety and drinking water safety will help female travellers stay healthy and safe no matter where they roam.
Recreational Water Safety
Swimming is a popular leisure past time, a great way to stay fit and a useful way to cool off in hot weather. Unfortunately large bodies of water can also present dangers to a woman's health as the threats of drowning and water borne illnesses cannot be ignored. To stay safe when you go swimming, remember to avoid swimming when intoxicated or otherwise ingesting alcohol or drugs, to always swim with a partner present, to avoid swimming while feeling ill or suffering from diarrhoea, to avoid swallowing water while swimming, to only swim where water is intended for this purpose and to always follow any instructions issued by a lifeguard or lifesaving authority.
Pregnant women should avoid water spas, and menstruating women should only swim with proper protection. Women should also follow local customs regarding their swimming attire. Going topless should only be an option if local women do so, and indeed swimming at all may depend upon local customs. In some areas swimming is a segregated activity and female travellers should do their utmost to respect these societal norms.
Drinking Water Safety
All women must be aware of the water quality of their drinking water when they travel. In many areas of the world tap water is non-potable, so bottled water is the safe option. However women should remain vigilant against ingesting non-potable water such as via ice cubes in other beverages, foods that have been washed in tap water, or powdered drinks that may have been prepared with tap water. Women should also use bottled water when brushing their teeth and swallowing tablets, and only use bottled water that is still sealed. Bottled water that has a broken seal may have been tampered with, and in fact may be nothing more than a bottle re-filled with tap water. If bottled water is unavailable then water boiled and stored in sterile containers will also be acceptable for drinking.
While travelling women should strive to drink at least six glasses of water per day, and more if they are especially active, sweating or travelling in warm climates. Only when urine is clear or pale in colour should women consider themselves to be well hydrated. Women who are uncertain about the state of tap water during their travels should always ask in a new geographic area, each new accommodation, and each restaurant or bar in which they order beverages. This will likely require women to ask about the water quality more than once during a trip, but it's always better to be safe than sorry.
Water safety is imperative for female travellers. Only when women are knowledgeable about both recreational water safety and drinking water safety can they truly travel safely and make the most informed decisions for their own health and wellbeing.
FEMALE TRAVELLER IS FOR SALE.
This website is for sale [more info].
You might also like...