Women's Clothes When Dressing for the Cold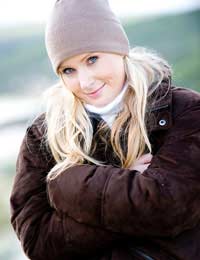 Dressing appropriately for cold weather is essential. Wearing the right clothing will leave you warm and dry, but wearing the wrong clothing can leave you cold, wet and exposed to the elements. Inappropriate dressing for the cold can not only leave you more exposed to illness, but injury as well. When you travel in winter weather be sure to pack clothes made of heavy fabrics, enough clothes to be able to wear layers and accessories to keep your extremities safe and warm.
Clothes Made of Heavy Fabrics
The best clothes for cold weather are those made of heavy fabrics that help retain heat. Avoid light, airy fabrics like linen and cotton and instead select clothing made from wool, velvet, fleece and sports materials known for wicking sweat from the skin. Unfortunately, heavy fabrics can become sodden when wet, such as from sweat or melting snow, which will eventually cool and leave you chilly so keeping cold weather clothes clean and dry is important.
Wearing Layers of Clothes
Layering clothes, or wearing more than one piece of clothing at a time, is important in cold weather. Long underwear or tights and shirts made of soft cotton are good for keeping warm air close and keeping heavier, scratchier fabrics away from the skin. Wearing a sports bra will also help cover more skin than a regular bra, and a camisole over or instead of a bra will help add another thin layer to your overall outfit. However, these items cannot be worn alone. Instead, cover them with trousers, shirts and sweaters made of bulkier fabrics. If you are in extremely cold areas then wearing lined trousers might also be a good idea. Invest in warm cotton or woollen socks, and consider wearing more than one pair when outside. Waterproof, lined footwear with good traction is also important when walking through snow or ice, and any time you head outdoors be sure to wear a wool coat or down parka. Again, clothing that becomes wet in cold weather can leave you feeling even colder, so take off wet clothes as soon as possible and dry all of your clothes thoroughly every day. Also remember that wearing layers may leave you feeling too warm if you are inside or physically active, so removing and adding clothing as needed is important to keeping an appropriate body temperature.
Accessories for the Extremities
A good deal of body heat can be lost from exposed extremities, especially a bare head, so keeping these areas covered with weather appropriate accessories is important. When you go outside cover your head with a wool or fleece hat, wear mittens or gloves on your hands and cover your neck with a scarf. In extremely cold circumstances wearing a hood on top of your hat and pulling your scarf up to cover your mouth and nose may also be appropriate. Making sure that your outerwear is made from wind resistant fabric will also help keep the effects of wind chill from leaving you cold.
The effects of cold weather on an inappropriately dressed body should not be underestimated. When you travel to cold climates be sure to pack heavy fabrics, enough clothes to be able to wear layers and weather appropriate accessories for the extremities. If you begin to feel tingly, numb or notice small cuts or cracks on your skin then get indoors and get warm as soon as possible. Frost nip and frostbite can be hazardous to your health, so stopping them before they start is essential to your continued good health.
You might also like...