Women's Tips for Dressing for the Heat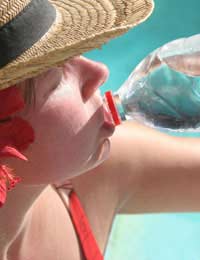 Packing the right clothing for a trip is always a struggle, but if you know that you're headed for a hot destination then it can really be a challenge. After all, you'll need to find a way to still look beautiful when you really feel wilted and you'll need clothes that are still respectable even when the heat makes you want to parade around in your bikini. Short of investing in a wardrobe full of new summer clothes when you arrive there often seems like there is little that a woman can do to beat the heat via her clothing. In actual fact there are many ways that women can stay cool and comfortable by dressing for the heat.
Invest In Cotton and Linen
Cotton and linen are easy and breezy so investing in a number of clothing items made from these fabrics is a good idea. Pants, shorts, skirts, blouses and dresses are all available in a wide variety of colours and patterns in cotton and linen. Unfortunately cotton and linen can easily crease in a suitcase or wrinkle during wear so you will want to bring a travel iron if possible. If not, simply hang your garment in the bathroom while you shower and the steam will work wonders. If you happen to be in the tropics, the same might occur if you hang a piece of clothing on the balcony – the covered balcony, that is.
Wear Light Colours
It may be true that you can't beat a little black dress for elegance and sophistication, but you can certainly beat black if you're trying to stay cool. Light colours help to reflect sunlight so you don't walk around baking all day. Whites, pastels and khakis are all appropriate colours for warm weather. And don't forget that this holds true for accessories as well. Leave dark hats, scarves or chunky shoes at home.
Bring a Pretty Hat
When the sun is beating down on you even your hair can become hot, not to mention the skin of your scalp can get sunburned, so bringing a pretty hat will help you protect your head. Hats can also come in handy if a sudden summer shower or monsoon arrives on the scene. Keeping an umbrella on hand to ward off sun or rain can also be helpful.
Think Layers
Hot days can still mean cool nights, so packing easily layered garments is important when you travel to warm areas. Many buildings will also offer intense air conditioning, so bringing clothing that can be mixed and matched to add some bulk is essential to keeping comfortable at all times. Cardigans, shawls and blazers are excellent items that can be put on when needed for a little extra warmth or coverage.
Carry an Emergency Cover-Up
When you're battling the heat it only makes sense to wear the lightest, littlest clothing possible but it may be that you will need more coverage at some times. For example, if you travel to a conservative area or a religious site you may be asked to dress modestly and keep your arms, legs, chest or head covered. To make sure that you conform to these rules keep an emergency cover up such as a shawl or sarong with you at all times.
Making clothing decisions about a hot climate can be tough before you actually arrive, but with a little forethought you can be sure to bring the best wardrobe possible. If you have questions, check with women who have been to your destination or who live there now.
You might also like...