Group Tours and Women Travellers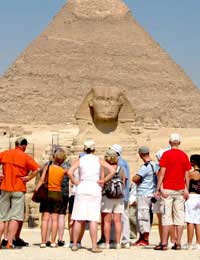 Many women prefer to travel as members of group tours so that they always have the security of experienced guides and other travellers around them. For women who would otherwise travel alone, group tours provide a sense of safety and comfort as they travel. However, with the wealth of group tours available today women should research their options carefully, be cautious about making friends on tour and report back to their tour operators if they found anything not up to standard.
Finding Group Tours
A group tour may be to a specific destination, cater to a specific group or offer specific itineraries or facilities that will make it stand out from all of the other options. For example, some group tours allow members to eat their way around a particular region, sail to a number of ports or even hike or bike a specific route. Some tours are open to anyone, some operate specifically for single women, some for lesbians and some for single mothers with children. Finding a group tour then, requires a bit of research and some recommendations from trusted advisors.
Making Friends on Tour
It's only natural for those who travel together on group tours to be friendly, but women should take care not to believe that they have a number of new, close friends on the first day. Making friends should be a slow progression and women should always be careful about who they trust at the start. Unfortunately, not everyone who travels on a tour is necessarily a good person so being cautious with trust, personal responsibility and valuables is a smart idea. If women do feel that they have made friends and would like to keep in touch once they return home, giving out a generic email address rather than an address or personal phone number may be best to make sure that their own privacy is still protected.
Report Back to Tour Operators
Group tours are only as good as the happiness and comfort level of their least content member. If there is something that a woman feels should or should not be included in a tour, she should make this recommendation to the tour operator. Some companies may actively solicit suggestions, but even if a tour operator does not pass out forms or make a point of asking for feedback members should always feel confident in voicing their opinions. This is particularly true of tours that cater specifically to a community of women. If females on these tours feel that their needs are not met, they must let the tour operator know so that changes can be made in the future.
Group tours are often popular with a variety of women travellers. While these tours can be a great opportunity for women to see the world and make new friends, they should be selected with care and all friendships should be made casually. When a tour is finished, women should feel free to give the tour operator honest feedback about what worked well and what did not. With such honest advice, tour operators can then go on to make adjustments and help women in the future feel more comfortable on their tours.
You might also like...