Advice For Working as an Au Pair Abroad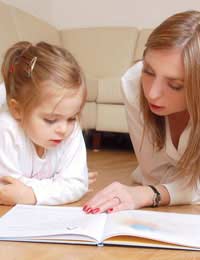 Women interested in finding jobs abroad might consider working as an au pair. Au pairs are specific types of child care providers who live with a family and in return for room, board and a small stipend provide no more than five hours of babysitting and light housekeeping per day. Women interested in learning more about working as an au pair abroad should consider working with an au pair agency, think about protecting their personal safety, work out how gaining international experience will help their career and decide if they would like to find full time work or otherwise make a career out of childcare.
Working with an Au Pair Agency
Au pairs usually combine their work in the home with part time studies and au pair agencies in other countries can be very helpful in finding suitable placements for such women. Working with an au pair agency abroad also provides women with the benefits of gaining expert advice regarding travel and visa arrangements, of having someone to speak with if the going gets rough and having experts advise them on issues such as working hours, appropriate accommodations and proper remuneration.
Au Pairs and Personal Safety
Au pairs can often be vulnerable to violations of their personal space and safety because from the start they enter another family's home. To make sure that they are well protected, women working as au pairs must demand their own private room which has a door with a lock. If the employers prefer to keep a key for the lock, women should make sure that they understand the circumstances in which others might enter their room. Women should also expect sufficient food to be provided for them. If these conditions are not met, or women otherwise feel that their personal space or safety has been or will be invaded, they should contact their agency or local authorities to find out what to do next.
Gaining International Experience
Many women who work as au pairs enjoy the international experience that these jobs give them. Even women who do not intend to make a career out of childcare often find that the life skills they develop during their time abroad serves them well on their CV's and later in life. For women who do want to pursue further studies or a career working with children, having international experience often reflects very well on their maturity, experience and expertise.
Finding Full Time Work
For some women, working as an au pair cements their decisions either to work in childcare or to work in a particular country. For women interested in switching to a full time childcare career, pursuing a career as a nanny may help them remain working in private homes. For women interested in staying in a particular location, actually being on the ground there can help them make contacts and possibly even find other job offers. Getting in touch with local authorities to find out more about studying for or beginning a particular career is also easier for women who work as au pairs and are already in a particular area.
Working as an au pair is a relatively easy way for women to find jobs abroad. Working with an au pair agency, protecting their personal space and safety, gaining international experience and whether or not they'd like to eventually find full time employment are all factors women should consider if they believe they would like to work as an au pair abroad.
You might also like...