Advice for Women Business Travellers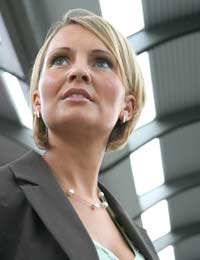 Women who travel for business not only worry about conducting their work correctly while abroad, but keeping themselves safe while they do it. This can make a business trip a tense time. However, female business travellers can take steps to help business trips go more smoothly. Carrying all work-related documents, discussing business plans in private, packing a chic capsule wardrobe and remaining observant about personal safety will all help women to enjoy more successful, and safe, business trips.
Carry All Work Related Items
The purpose of business travel is to conduct business, but you can't do that if your presentation notes are stuck in your lost luggage. Rather than leave a big deal in the hands of someone else, take care to pack all business related items in your carry on bags. Women are usually in luck when it comes to carry on bags because many airlines allow them to carry a purse or laptop bag in addition to a briefcase. Take advantage of such female friendly policies and use the extra space to carry all of the cords for your electronics as well as a clean change of clothes in case your luggage really doesn't make it in time for your big presentation.
Discuss Business Plans in Private
Taking business on the road means that you'll often find yourself in public places and it might be tempting to begin discussing business plans to make your time more productive. Do not do this. You have no idea who is sitting behind you on the train or at the next table in a restaurant. Instead, make your hotel room and your company's local branch your only areas for business discussions. If you are travelling with male colleagues and prefer not to enter hotel rooms then ask to use a more private area in the business centre or business lounge. However, these areas are still semi-public so speak discretely and don't say anything that could come back to haunt you.
Pack a Chic Capsule Wardrobe
When possible, pack a capsule wardrobe for business travel. This selection of mix-and-match clothes will allow you to change your look for many different events without carting your entire wardrobe around the world with you. A selection of pants, skirts and blouses in complementary colours, as well as a number of accessories including earrings, necklaces, bracelets, scarves and small bags can make a limited wardrobe seem larger. Try to carry only one pair of heels and one pair of flats, and remember that you can use your makeup to create a variety of looks with the same small number of tools.
Remain Observant About Personal Safety
Many female business travellers report safety as a primary concern when working away from home. When you travel, arrange as much as possible before you leave home. Ask for a hotel room above the first floor and request that it is away from the central bank of lifts. Do not be afraid to request a room change if you are assigned one that makes you uncomfortable. Ask a hotel employee to show you to your room and do a quick safety scan when you enter. If you don't get mobile reception in hotel room, make sure the provided telephone works. Always use the locks provided on a hotel door and try placing a small rubber wedge behind the door so that it won't open even if the locks are forced. Always lock your valuables, including your laptop, in the hotel safe and if someone arrives to repair something in your room call down to the reception to confirm this before allowing them to enter. Never get too cosy in a hotel that you travel to frequently, but instead follow proper safety precautions at all times.
Business travel can be frustrating for many women. By carrying all work related items, discussing business plans only in private, packing a chic capsule wardrobe and remaining observant about personal safety women can alleviate some of this frustration and increase their chances for a successful trip.
You might also like...