Advice For Working Abroad as a Woman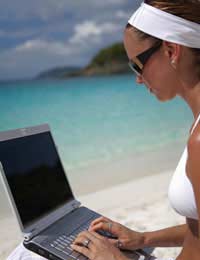 Whether women actively seek work abroad or are offered an expat assignment with their company, holding down jobs abroad while making new friends, travelling the region and figuring out daily life can be a stressful time. Using company resources, joining international clubs, learning the local language and investigating local culture can all help women who work abroad to settle in and enjoy their time overseas.
Use Company Resources
Some jobs come with better perks than others, but if you're company offers relocation resources then don't hesitate to take advantage of them. The companies that offer these services do so because they know that you need to concentrate on your work and you don't need to be organising an international move at the same time. Resources might be as simple as a welcome pack for a new location to full travel, moving and even language learning services to facilitate your transfer. If you are not sure if the company for which you will be working abroad offers any sort of resources to help you move or settle in, just ask. The worst they can say is that they don't!
Join International Clubs
When you work abroad you might find yourself feeling like a fish out of water in your new location. Joining an international club should help you meet new people who have been in exactly the same situation and who will have helpful tips and advice for settling in. Many international women's clubs exist around the world and though not every woman involved in them will be holding down a job herself they will all have information about supermarkets, hair salons, tailors and the myriad other details that can make life frustrating when you are not familiar with your local options. International clubs also tend to have a full schedule of groups, classes, workshops, seminars and even travel tours that you could check out to enrich your non-working hours.
Learn the Local Language
Language difficulties are often a huge stumbling block for women who work abroad. Of course, learning the local language is often easier said than done but even mastering a basic vocabulary can make all the difference to your comfort level when you must navigate your neighbourhood and get to know your neighbours. Invest in language classes, language CDs or podcasts, or even a private language tutor. Very often university students are willing to come over and converse with you for a small fee, and watching television and films in another language can help you pick up even more vocabulary and grammar.
Investigate Local Culture
When you live and work abroad you pick up a certain amount of local culture and customs just by being there. However, rather than take things at face value you'll probably want to investigate why things are the way they are, when traditions started and what certain things mean within the society. Understanding local culture means you know why things happen which can make you feel more comfortable in your new home. Speaking with local residents and reading up on local history can both be incredibly valuable to settling in to a new culture.
Women who work abroad have to learn to live and work in an entirely new country and culture. Utilising any company sponsored resources, joining international clubs, learning the local language and investigating the local culture are all great ways for women to settle in while they work abroad.
You might also like...