Advice For Female Travellers Exploring Secluded Areas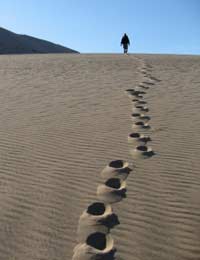 It is not recommended that female travellers explore secluded areas on their own, but there may be any number of reasons that a woman might travel to secluded areas during trips abroad. Women who are working or researching abroad may well need to head to secluded areas in order to conduct business, and tourists may find that adventure travel or the desire to find an untouched beach may lead them to travel to such places. If you are considering exploring a secluded area abroad, try to find a group to travel with, carry proper emergency supplies, practice proper water safety as needed and remain observant of your surroundings at all times.
Find a Group to Travel With
The best thing a woman can do to stay safe while exploring secluded areas is travel in a large group. Avoid going off on your own down unbeaten paths, and try not to travel with only one guide as your companion. If possible find a group that includes other women and, all things being equal, with a professional tourism organisation. If you do decide to travel by yourself or with an unlicensed guide let others know of your plans, where you expect to go and when you expect to be back. Leaving a copy of your itinerary, as well as copies of your passport and other identification documents, with friends or family at home is also a good idea.
Carry Proper Emergency Supplies
When you travel to secluded areas the chances of obtaining help during emergencies, significantly lowers. Because of this, the importance of carrying proper emergency supplies with you as you travel increases. When you pack your luggage be sure to include a first aid kit with (at least) plasters, tape, antiseptic ointment, antihistamines, insect repellent, tweezers and scissors. Also pack extra food such as nuts, dried fruit and nutrition bars, and bottles of water. Including a small tool kit, shovel, feminine hygiene products, extra clothes, a blanket and proper footwear are also good ideas. Bring any prescription medications, eye glasses or other items specific to your health, all travel and financial documents, and try to travel with a working mobile phone at all times.
Practice Proper Water Safety
Often there are times women seek out secluded areas to find pristine beaches or other swimming areas. While this may allow you to make memories to last a lifetime, you will need to practice proper water safety at all times to lower the risk of drowning, contracting or pass along a waterborne illness. Steps you can take to these ends include, swimming only when sober, swimming only with others, staying away from swimming if you feel ill or have diarrhoea, keeping your mouth closed while swimming and not swallowing water and swimming only where you know the water is safe and clean. If you are in a conservative country, swimming naked or even topless is not advised at any time, no matter how secluded your beach or lake might seem.
Remain Observant of Your Surroundings
When you travel to secluded areas you need to remain observant of your surroundings. This is not only because you may need to describe your surroundings if something happens in the area, but because you may need to be able to find your way back to a city or town at a later time. Pay attention to where you are, who you are with, who is around and any noticeable landmarks or distinct geographic markers as you travel. Also try to keep track of the direction you travel in and rough estimate of distances between areas, landmarks or other markers. The more information you have about where you are, the better your chances of returning safely if need be.
Travelling to secluded areas requires many safety precautions. If you are considering a trip to a secluded area, research your plans thoroughly and speak with others who have undertaken similar travels to find out how to best maintain your health and safety while you travel.
You might also like...