Advice For Women Travelling in the Caribbean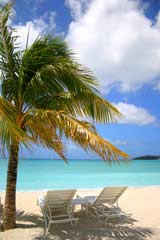 The Caribbean is a region of islands that lie between North and South America, and to the east of Central America. The eastern end of the chain is the island of Cuba and the western end is the island of Barbados. These islands are tropical, and thus are hugely popular with western tourists looking for fun in the sun. If you are considering a trip to the Caribbean be sure to arrange for all necessary travel vaccinations before you leave home, keep careful watch of your possessions while you travel, practice proper water safety at all times on the islands and understand the consequences for drug use and/or trafficking while abroad.
Arrange Necessary Travel Vaccinations
The Caribbean is a mainly tropical climate, which means that there can be the threats of tropical diseases on the islands. It is recommended that women who plan to travel to the Caribbean attend a travel clinic for necessary vaccinations which may include Hepatitis A, Typhoid, Diphtheria, TB and Hepatitis B. Yellow fever vaccinations may also be recommended, though anti-malarial tablets are not often advised. Women who are pregnant or breastfeeding should disclose their conditions and discuss which vaccinations and health precautions would best suit their specific situations while travelling in the Caribbean.
Keep Careful Watch of Possessions
Travel in the Caribbean is not necessarily dangerous, but theft and pick-pocketing are slightly more common. If you choose to bring valuables on your trip, be sure to leave them in a hotel safe. Many hotels will offer safes in rooms, though some may have a more general safe for all guests. If you can not store your valuables in your own safe, make sure that you are satisfied with the safety arrangements of a communal safe before agreeing to use it. Never flash your cash, jewellery or electronics while out in public and do not bring valuables to the beach or pool if you will not be with them at all times. When out at restaurants and bars it is advised that women keep all possessions on their person and keep their handbags and backpacks looped around their ankles rather than hung off the back of their chairs. Passports should be kept on your person at all times.
Practice Proper Water Safety
Most women who go to the Caribbean will be around water at some point, whether it be at a beach or at a resort pool. Such bodies of water can present dangers to a woman's health in the form of drowning and/or waterborne illnesses. Stay safe when you go swimming by avoiding swimming when intoxicated, always swimming with a partner present, avoiding swimming while feeling ill or suffering from diarrhoea, avoiding swallowing water while swimming, swimming only where water is intended for this purpose and always following any instructions issued by a lifeguard. Going topless should only be an option if local women do so and this is usually only in clearly marked areas.
Understand the Consequences of Drug Use and Trafficking
Parts of the Caribbean can have a reputation for drug use so women should always remain vigilant when others offer them unknown substances. Women should also remain aware that others may look for tourists to help transport and traffic drugs to other countries. If someone asks you to hold their luggage or transport something for them, say no immediately and emphatically. If someone does approach you for such tasks, consider reporting it to tourism officials or the local police.
Enjoying a holiday in the Caribbean would be a dream for many women. If you are considering travelling to the Caribbean then be sure to do your homework with guide books and websites and talk to tourists who have recently returned from this area.
You might also like...