Women Travelling To South and Central America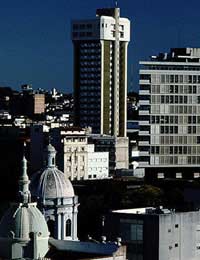 Women who travel to South and Central America are rewarded with warm welcomes, delicious food, enviable weather, wonderful beaches and seemingly limitless opportunities for adventure travel. Unfortunately, some women shy away from travel in these regions because they are afraid for their safety or uncomfortable with foreign environments. If you are considering travelling to South and Central America, don't let these worries put you off. With a little understanding of religion in the region, women's fashion choices, tips for successful adventure travel, tours and safety, there should be no reason you won't have the trip of a lifetime.
Religion in South and Central America
South and Central America are overwhelmingly Christian areas. The vast majority of citizens are Roman Catholics, so you may find that attitudes are more conservative than you are used to. This might be especially true of topics such as abortion and homosexuality, so if you hold liberal views it may not be appropriate to offer them when unsolicited. You will likely also find that daily life is interrupted on religious holidays, especially around Christmas and Easter, and possibly also on specific saint days as related to local areas. Religious milestones such as baptisms, first communions and weddings are also usually taken very seriously so if you come upon such events acting discretely and respectfully is best.
Fashion Choices in South and Central America
If you travel to South and/or Central America you'll want to pack a variety of clothing options. Temperatures can soar in some areas, but nights can be cold. Local women may not wear shorts often, except when exercising or at the beach, so packing nice trousers, skirts and dresses is advisable. Dressing discretely, particularly when travelling to religious sites, and keeping hemlines lower and necklines higher are also good ideas. Comfortable shoes, but not necessarily trainers, should also be on your packing list.
Adventure Travel Tips for South and Central America
Adventure travel, which usually involves some form of physical activity in remote or unexplored areas, very often carries risks to your health and safety. For some types of adventure travel you may even be asked to sign a waiver that you will not hold the tour company responsible for any illness or injury. If you are planning on engaging in adventure travel in South and/or Central America, make sure you understand what kind of activities are on offer or required, advise your guides of your overall levels of health and physical activity, research the tour operator's experience and qualifications, break in any equipment you'll need before you leave home and follow all safety instructions as your tour guide gives them to you. An adventure travel trip is not the time for trial and error, so be confident in your abilities or consider joining another type of tour.
Tour Tips for South and Central America
Tours are a great way to explore South and Central America. If you are a single woman then joining a tour group will give you the safety and comfort of travelling with others, and anyone will appreciate the expert knowledge and planning that comes as part of exploring with tours. Tours sometimes also make your travel easier by arranging visas and other paperwork, offering suggestions on what to pack and how to act, and expediting entrance to tourist sites and eateries. If you are considering joining a tour, make your selection based on itineraries, costs, the experience and expertise of the tour guides and if there is a special theme to the tour (single women, older travellers, family tours, etc). If you arrive and feel uncomfortable with an aspect of your tour, bring it up with the tour operators before beginning your travels.
Safety Tips for South and Central America
Travelling in South and Central America requires good common sense. When staying in hotels, make sure your room has a safe for valuables as well as a lock on the door and a peephole. Use these facilities. Ask for a room near the lift and pay attention to emergency evacuation plans. Don't flash cash, jewellery or electronics while out in public and leave valuables in your accommodation if you head to the beach. Keep some cash on your person at all times, and travel with a working mobile phone if possible. Do not travel to remote or secluded areas on your own, and do not go to private locations with strangers. If you run into problems while abroad, do not hesitate to contact the nearest consulate or embassy for advice or information.
Travelling to South and/or Central America is the trip of a lifetime for many women. If you are considering such travels, check out a variety of guidebooks and speak with travellers who have recently returned from trips similar to the ones that you are contemplating.
FEMALE TRAVELLER IS FOR SALE.
This website is for sale [more info].
You might also like...