Female Body Language Around the World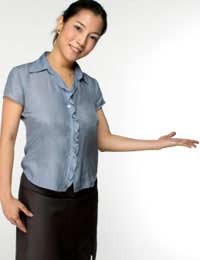 It's true that even when we don't say a word our body language still communicates with others. Even if we are not aware of our silent communication, in other cultures women's body language can be watched critically and can lead to unintended consequences. If you are travelling abroad to another culture, carefully control your body to ensure that you don't inadvertently send a signal you never intended. Having to stay so observant may not seem fair, but it will help you stay happy and safe as you travel.
Body Language and Culture
Different cultures view certain forms of body language in different ways. For example, passing and accepting an item with two hands is considered polite and respectful in Asia, whereas in much of the West it might not even be noticed. Similarly, bowing in Asia is often a sign of respect while it would appear subservient in much of the West. Personal space, or how closely one person place his or her body to another person, is also different around the world. In the West we often consider there to be acceptable distances in social situations and then more intimate personal spaces. In other areas, for example in Saudi Arabia, standing very close in social settings would be seen as more normal. However, women should always remain aware of how close their bodies are to men as this can be a cause of controversy in more conservative societies.
Body Language and Hand Signals
Hand signals are often unique to specific cultures, and because women may be seen as ordering others around with hand signals female travellers should always remain aware of how certain hand gestures might look to other people. For example, giving a 'thumbs up' is often considered quite rude in South America and particularly rude when given by women. Similarly, circling the thumb and forefinger is often seen as an obscene gesture in Brazil, Germany and parts of Eastern Europe. Pointing with the index finger may seem rude in some cultures, while in Asia pointing with the middle finger may be typical. For women, finding out what local customs are regarding hand signals will help them avoid any embarrassing or even dangerous situations that could come about from not knowing about a specific culture.
Body Language and Eye Signals
Around the world women's eyes are universally regarded as beautiful if not downright sexy, so eye signals can be very potent. Even making eye contact can be thought of as encouragement or an invitation in areas such as the Middle East and Eastern Europe, and it can be religiously inappropriate for example in areas of Orthodox Judaism. For this reason, women travelling abroad may want to default to averting their eyes unless they understand the politics and customs associated with such actions. Similarly, winking in the West may denote a joke or being silly, but in other areas it may be viewed as singularly sexual. The same with a raised eyebrow. There may also be certain eye signals, such as holding eye contact or using line of sight as a direction, which are associated with prostitution in certain areas. Female travellers should take their lead from local women when it comes to making eye contact and eye signals abroad.
Defensive Body Language
Sometimes it can seem overwhelming for women to understand how they should act while abroad. Certain defensive body language, such as crossing the arms and standing far from others, almost always transmits a negative message. These can be particularly useful if women find themselves the objects of unwanted attention. Holding the body formally and sitting in a conservative manner (as opposed to casually and sprawled out) is also more defensive for women. Finally, simply leaving an area that is uncomfortable or safe will allow women to send the message that they find the environment or persons in it to be unacceptable. This may not seem fair for women who would like to be a part of the gathering or the location, but it is better to remain safe than put your health or even life at risk.
You might also like...