Female Travel Tips for Accessing Health Care Abroad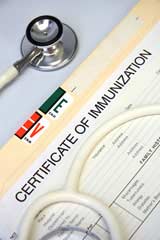 Whether a woman has an unexpected health emergency abroad or travels specifically for a medical procedure, she will need to access foreign medical systems to get appropriate care. Carrying a certain amount of basic medical information, taking out appropriate travel and health insurance policies and understanding the differences in women's health care abroad can all help a woman more successfully navigate international systems.
Medical Information
For women who travel, keeping a short list of basic health concerns with them at all times is a good idea. The list should include any medication that is taken regularly, any serious previous illnesses or injuries, any past surgeries and any allergies that a woman may have. If a woman is travelling specifically for a medical procedure then she should try to bring with her the most extensive medical file possible including the most complete health information available. Serious conditions can also be made clear with medical alert bracelets, necklaces or tags.
Travel and Health Insurance
The United Kingdom has a free National Health Service for its citizens, but not every country has a similar health system and even if they do these systems are not necessarily open and freely available to non-citizens or non-residents. To avoid coming up short or having to go deeply in debt to finance health care abroad, women who travel should also be sure to purchase appropriate travel and/or health insurance plans before they leave the UK.
Plans may vary according to where and when a woman is travelling. Women should also check that a plan covers any expenses that may be incurred if she needs to be transported back to the UK following illness, accident or injury. Checking if these plans will also cover expenses incurred following a death abroad and repatriation of a body may also be a good idea.
Women's Health Care Abroad
Women's health, especially women's reproductive health, is not necessarily treated in the same manner across the globe. Women's health care abroad may differ in approach and access. For women travelling abroad for an extended length of time, bringing a stock of items such as tampons, contraceptives and a preferred brand of condoms is a good idea.
Women who are pregnant or attempting to get pregnant should discuss their travels with their doctors before leaving the country. Women should also investigate health care options in areas to which they plan to travel. It may be that remote or rural areas do not have much health care infrastructure, and female medical professionals may not be the norm in some areas. Knowing this before travel, can help a woman feel prepared in case of emergencies.
Accessing health care abroad can often make women feel uncomfortable or frustrated if health care systems differ significantly from what they are used to. This can be particularly true if a woman has an issue with reproductive health. Carrying some basic medical information, investing in appropriate health and travel insurance and learning more about women's health care abroad can all help women feel more confident about accessing health care abroad.
You might also like...