Tips for Women Travelling for Dentistry Treatment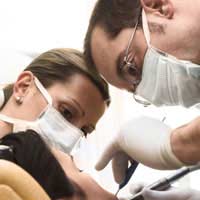 'Dental tourism' is the term now used to describe the practice of travelling for dentistry treatments. It is estimated that about 40,000 Britons travel to see cosmetic dentists abroad each year, but unfortunately not all of these procedures are successful or up to the same standards as dental procedures in the United Kingdom. In fact, most British dentists would advise patients to think long and hard before travelling for dentistry treatments. If you are considering going abroad to see a dentist, don't forget to check up on the dental standards of the country to which your travelling, the qualifications of the dentist you will be seeing, to ask about recovery times and expectations and any necessary follow up treatments.
Dental Standards
Standards in dentistry differ around the world, so it will be worth your while to find out about the dental standards of the country to which you are thinking of travelling. For example, contacting national dental associations (such as the Polish Dental Association) or even regional dental associations (such as the European Dental Association) will provide you with more information about the profession in that country or area.
Dentist Qualifications
Most trained dentists will belong to national organisations, so making sure that your dentist is registered is a good first step towards making sure that (s)he is qualified to provide dentistry. Asking the dentist directly where (s)he trained and how (s)he qualified is another way of finding out facts that you can verify. Don't discount a dentist's professional reputation either. If you know others who have travelled to be treated by him/her be sure to ask them about their experiences. Don't be shy about finding out how prepared they felt for the treatment, if treatment went according to plan and if, now that their experience is complete, they would consider it a success.
Recovery Expectations
If you decide to book an appointment with a cosmetic dentist abroad, be sure to ask about recovery expectations at the time that you make your appointment. Let the dentist know that you will be travelling for the procedure and find out if medications will be necessary following the procedure, if you will need to return for check ups, if significant pain is associated with the procedure and if your planned travel dates and accommodations are acceptable. Also ask if it would be best to bring a travel companion in case you need someone to watch over you during recovery.
Follow Up Treatments
Some dentistry treatments require a particular dentist to work with your teeth more than once. Make sure that you understand if you will only need one appointment or on-going appointments to complete your treatment. Also, consider what you would do if your treatments are unsuccessful or even leave you in ill health afterwards. The British Dental Health Foundation runs a helpline at 0845 063 1188 (Monday to Friday, 9am to 5pm) that is staffed by dental experts and available to help answer questions about procedures and treatments, including what to do if dentistry treatments conducted abroad do not turn out as hoped.
You might also like...