Important Injections for Female Travellers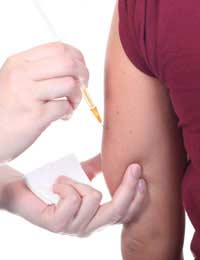 Female travellers must prepare for travel abroad and checking in with a health professional as to which vaccinations and injections are important for travellers is the only way to make sure you are truly prepared for your trip.
Common Travel Vaccinations
Some travel vaccinations are required before a tourist can obtain a visa and enter a particular country or area, but even if vaccinations are not mandated, some common injections are still a smart idea to avoid trouble on the road. Hepatitis A, Hepatitis B, Tetanus, Measles, Mumps, Rubella, Rabies, Cholera, Influenza, Japanese Encephalitis, Typhoid and Yellow Fever are all illnesses that can be avoided with proper injections.
Some of these immunisations stay active for up to a decade, so keeping track of which jabs you get and when, will help you be sure that you are up-to-date every time you travel. Malaria can also be avoided by taking a course of anti-malarial tablets. Currently there are no immunisations available to protect against Dengue Fever, SARS or Bird Flu, so taking proper precautions such as washing hands, staying away from sneezes and coughs, eating only clean food and drinking only bottled water, avoiding mosquito bites and limiting contact with other insects and animals is always a smart idea.
Females and Injections
Women should always have all of the same vaccinations as male travellers, but also need to think of other injection issues as well. Women who rely on injected contraceptives will need to time their travels so that they can still have these jabs. Women who rely on certain contraceptive sensitive medications, such as anti-malarial tablets, should stock up on a barrier method of contraception to use as backup. Bringing along your preferred brand of condom is a good idea in case it is not available where you will be travelling. Some women may also want to carry emergency contraception just to make sure that interactions between their travel preparations and birth control do not lead to any unintended consequences. Females who are pregnant or breastfeeding should always let a doctor know this before accepting any injections as some vaccinations are not intended for this population.
Accessing Injections
Travel injections can be accessed from travel clinics across the United Kingdom, and checking with your local GP will let you know all of your options. The price of travel vaccinations may vary and fees may be charged for consultation as well as each dose in the course of a particular vaccine. Proof of immunisations will be given following each injection, sometimes in the form of a 'health passport' or similar booklet that can later be produced upon demand. It may be that this proof is required for entry visas into certain countries of overseas programmes. Making sure to attend each appointment on time is critical when receiving injections as they can be time sensitive. If you do need to cancel an appointment during the course of a vaccination, tell the travel clinic where you are in the course and follow their instructions about rescheduling.
Injections are an important way that travellers can avoid illness during their trips abroad. Contact your GP or travel clinic immediately if you are planning to travel abroad soon.
You might also like...